Resident & Family Council Meetings
Resident council meetings are held monthly by Recreation staff for all residents to attend. This is an opportunity for the residents and their families to give their input and express their concerns or suggestions. Each Department Head attends these meetings so that they can answer any questions regarding their department.
If a Department Head is unable to attend the resident council meetings and there are questions or concerns regarding their department, the recreation staff will relay the information to the manager to ensure the questions or concerns get addressed.
This is a time for residents to make suggestions regarding things like adding a favorite meal to the menu.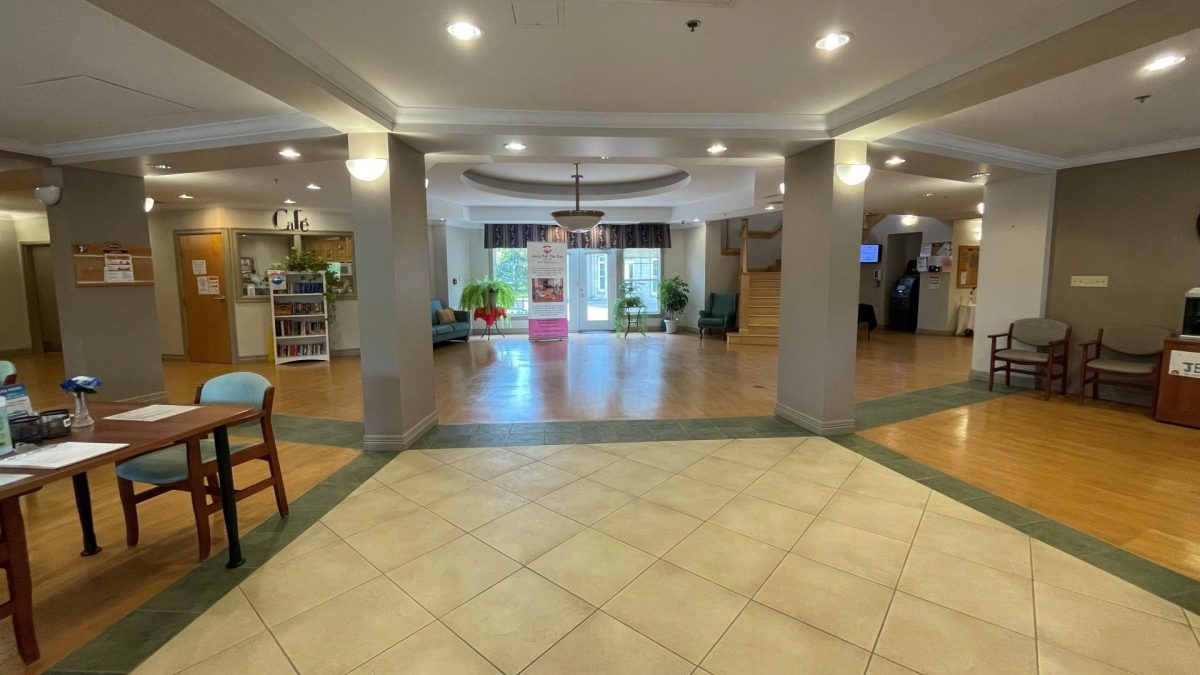 Wynn Park Villa Main Floor
Interdisciplinary Care Conferences
Care conferences are held within six weeks of admission to review/revise initial resident plan, providing a basis for ongoing planning and identifying risks, i.e. falls. Following the first year of admission, annual care conferences are held to ensure the plan of care continues to meet the resident's needs, desires, values, and strengths.
These meetings are held to ensure each individual resident is receiving the upmost quality of care while achieving family satisfaction of care and services that have been provided at Wynn Park Villa.
Family are mailed written notification with time and date of the scheduled care conference as well as a call within the week of the care conference to confirm attendance. If someone is unable to attend, the care conference may be rescheduled.
Care conferences are held in the meeting rooms on each resident unit or in the board room on the first level and are approximately thirty minutes in length. Members include one or more family representative and staff representatives from various disciplines including, but not limited to the Director of Care, RN/LPN supervisor, CCA, Recreation, Director of Support Services, Dietary Aide, Housekeeper, and Dietician.
The Interdisciplinary summary is reviewed. Discussions include medical and nonmedical interventions, i.e. therapies, meals and food service, emotional needs, and physical needs and personal concerns residents or family wish to discuss. Issues and goals are written on dated care plan with measurable objectives, responsibilities and timeline clearly defined.
The Care plan is revised to reflect the best approach to care for each resident. Resident care plans act as a road map to guide all who are involved with resident care. Care plans are revised and updated annually, quarterly, and/or as resident status changes.
Resident Transportation to Appointments
Families have a responsibility to transport or arrange transportation to and from appointments. Wynn Park Villa staff will advise the Substitute Decision Maker/Next of Kin of the appointment as soon as it has been scheduled. Wynn Park Villa staff will inform the designated person(s) taking the resident of the time, place and what would be involved at the appointment. Any required paperwork can be picked up at the nursing station when collecting the resident at appointment time.
If there is absolutely no one available (family, next of kin, friend, etc.) to transport the resident to the appointment on the scheduled day, Wynn Park Villa may try to have the appointment changed to a more convenient time.