The Nursing Department provides twenty-four hour nursing care with a team of Registered Nurses, Licensed Practical Nurses and Continuing Care Assistants/Resident Care Assistants. Nursing staff regularly completes refferals to other members of resident care such as Physicians, our Occupational Therapist, our Physiotherapist, Dietitian or the Foot Care Specialist. Wynn Park Villa staff are comitted to providing a holistic approach in maintaining a healthy lifestyle for all residents.
Each resident has thier own care plan that is followed daily and updated continously and regularly. These care plans are discussed with family during care conferences or whenever families has any questions or concerns regarding their loved ones.
Call bells are located at each residents bedside and in each bathroom, allowing residents to call for help when needed. The bells are heard thoughout the entire unit and can be answered from the nursing station.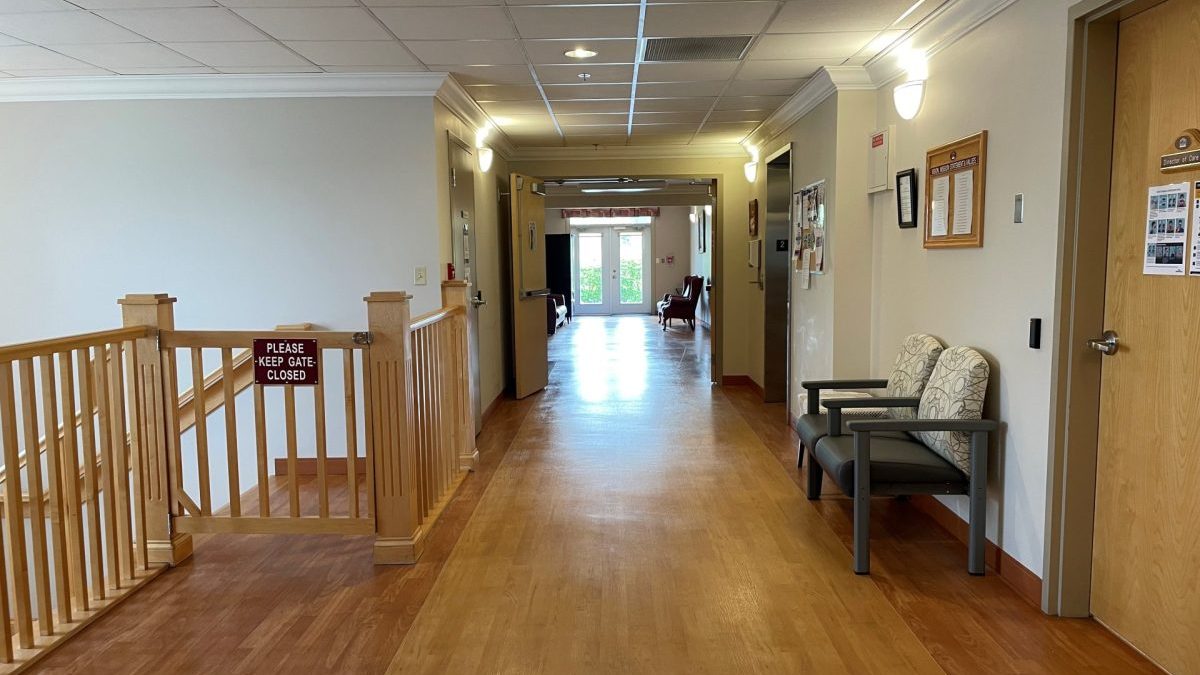 An upper floor hallway at Wynn Park Villa
Occupational Therapist (OT)
A Licensed Occupational Therapist is contracted through Wynn Park Villa and is here to offer services and equipment to residents. The OT provides services to residents based on a written referral process.
OT is an allied health profession that specializes in helping people to function as independently as possible and to particiapate in everyday activities of life.
The OT is also involved in residents who need assistance with the selcetion of aids such as walkers, wheelchairs, and safety devices such as safety belts while still promoting a least restraint philosphy.
OT's document all of their interactions regarding care and services in resident health charts.
A Licensed Physiotherapist is contracted through Wynn Park Villa and plays an active role in Resident Care. The PT provides services based on written referral process from staff.
The PT works with residents who may need assistance with mobility, has had a fall and needs rehabilitation, is recovering from a surgery or a break/fracture, or specific exercises programs to enhance strength, etc. The PT also educates staff on proper body mechanics, use of mechanical lifts, transfers, and proper lifting techniques.
PT's document all their interactions regarding care and services in resident heath charts.
Our dietician collaborates with the Director of Support Services to ensure residents are getting a proper diet plan based on their personal needs. The dietician receives referrals from nursing staff if any concerns or changes are noticed with the residents. The Dietitian also plays a role in developing the menu which Canada's Food Guide to Healthy Eating is the foundation of.
Wynn Park has a team of recreation staff along with dedicated volunteers who provide social, emotional, spiritual, intellectual, vocational, and physical activities to the residents at Wynn Park Villa. Certain activities are modified for each resident so that everyone has the benefit of enjoying stimulating activities.
A monthly newsletter is given to each resident at the beginning of every month which includes a calendar consisting of the time and location of daily activities.
Wynn Park Villa has a mobility bus to ensure all residents, including those with mobility restrictions, have access to participate in various outings such as sightseeing, trips to the local park, shopping centers, etc.
Any family members who would like to volunteer with our Recreation Department are more than welcome. Volunteers are required to submit an application form, along with obtaining a criminal record check and signing a confidentiality agreement. This is to ensure the safety and privacy of our residents and staff.
The below links are to external resources that may be of use to residents and family members at Wynn Park Villa: